Australian Traffic Cone Standard
A Standard Traffic Cone In South Auatralia
A traffic cone is hollow cone of fluorescent red or fluorescent orange material that is resilient to impact and will not damage vehicles when hit at low speed according AS 1742.3, Section 3.9.1.
Traffic cones are used to define the pathway in which either pedestrian or vehicular traffic are required to navigate in order to safely travel through, past and around the work area. They should be spaced in a manner so as to discourage entry to the work site by either pedestrian or vehicular traffic.
It is recommended that the 450mm to 500mm traffic cone be used on low speed urban and rural roads and where activities are to be performed on freeways and high speed roads the 700mm and over traffic cone should be used.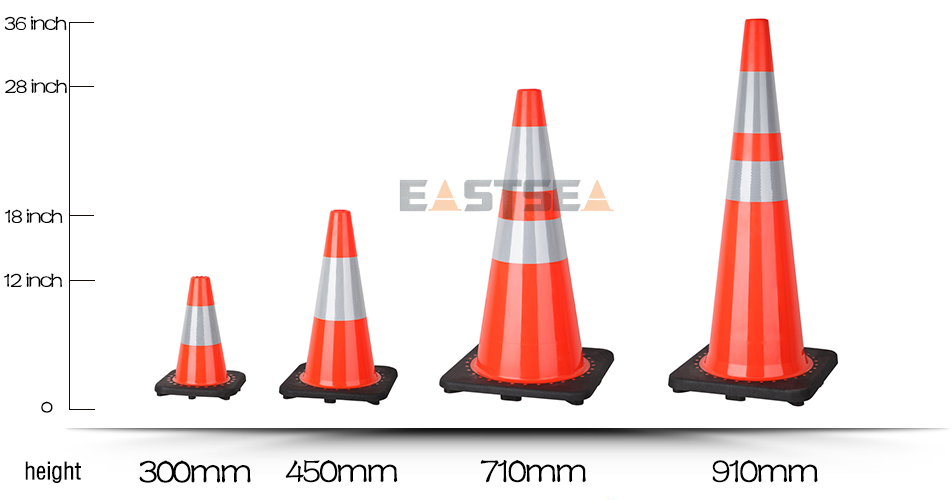 For night-time use, all traffic cones must be fitted with a white retro reflective band that covers the middle third of the surface of the cone. A 150mm – width band is to be used on a 450mm to 500 mm – traffic cone and 250mm – width band is to be used on a 700mm and over traffic cone.
There are numerous activities for which traffic cones can be used on roads or footpaths. It is the responsibility of each company or individual to conduct a risk assessment specific to the activity for which the cones are to be used.
Traffic cone offered in our company
Our PVC traffic cone is made of PVC material, can combine with the black plastic base, there are 300Mmm/1.0kg,450mm/1.5kg,710mm/3.1kg,910mm/4.5kg and more for your choice. The base and cone can be locked together with a special design, can be packed separately, is easy to install and shipping. And on the top of the cone, you can fix a LED light, which with 3M reflective band makes the traffic cone more clear in night. And improve the traffic safety for the driver, workers, pedestrians both day and night.
For some special function, our R&D department has been working on it for many years. Testing the material formula and the small change of the shape, try to make good quality and high performance products. Until now, we have collapsible traffic cone, all kinds of traffic cone accessories,3M reflective bands, etc. for your option.